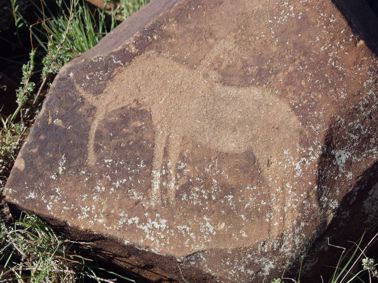 Wildebeest Kuil
On the outskirts of Kimberley in the Northern Cape, South Africa, is a community-based public rock art project, the Wildebeest Kuil Rock Art Centre.
OPEN Mondays to Fridays 09:00 to 16:00 and by appointment over weekends. NEW telephone 053-8392747. Directions: about 16 km from the centre of Kimberley along the R31 towards Barkly West, situated on the south side of the road, highly visible visitor centre, small hill, name on entrance gateway. GPS: DD -28.66716 24.65033; DMS -28 40' 1.79" 24 39' 1.19" UTM 35J 270378.09772389 6826629.3498505
"You can connect here with the past in a new and deeply spiritual way" - SA Tourism head Cheryl Carolus. For South African San Institute CEO, Meryl-Joy Wildschut, a visit here had been "a moment of extreme pride."
Page updated 10 Nov 2020
ABOUT WILDEBEEST KUIL
http://en.wikipedia.org/wiki/Wildebeest_Kuil_Rock_Art_Centre
San and Khoe people, researchers and other stakeholders co-operate in conserving the engravings here - more than 200 images and many further pecked or rubbed markings are spread over a small hill. A visit here can be a deeply moving experience, and an informative and provocative one for anyone interested in local history and contemporary heritage and social issues. School groups especially welcome. The site, surrounded by land owned by the !Xun and Khwe San people, is on a servitude set aside for rock art conservation and public access. Our rock art custodians/guides will help make your visit special. The experience begins at a visitor centre, where there are displays, and an auditorium with a twenty-minute introductory film. The 800 m walk-way weaves up and over the hill via a number of information points. A guide will provide commentary and discuss your questions. On your return, the shop at the Centre has art and craftwork from the !Xun and Khwe community. Rock art and related books also available. Facilities (auditorium, kitchen, etc) may be hired for small conferences/workshops/end-of-year functions.
Contact details, opening times:
NEW telephone number at the site: 053-8392747; or enquiries (incl after hours) at 082 2224777 [+27 82 2224777]. Postal address: WBK: Dr David Morris, P.O. Box 316, Kimberley, 8300, South Africa. Email: dmorriskby@gmail.com
Having been closed during Covid-19 lockdown, the site is open 09:00 to 16:00 Monday to Friday; and by appointment over weekends and public holdays if staff are avialble (Enquiries tel 082 2224777).
Special school and tour visits may be scheduled outside these hours by prior arrangement.



GUIDES

Your guide at Wildebeest Kuil is Petrus Wilson.
Groundsman: Amos Makau.

WILDEBEEST KUIL ROCK ART CENTRE ENTRANCE FEES:

Our tariffs are: R35 for adults and R20 for children. For school groups: R15/learner & R35/educator.
Shop: Books on rock art and related topics; CDs; San craftwork for sale and purchased to the benefit of !Xun and Khwe crafters and artists.
VENUE HIRE
Wildebeest Kuil Rock Art Centre is also ideal for small conferences/seminars/symposia, with kitchen and tearoom area as well as outside braai/picnic facility. Please contact us for details.
LISTEN TO COMMENTARY ON WILDEBEEST KUIL IN THE KHWE LANGUAGE:
http://www.youtube.com/watch?v=Wq0iqEWtA6U&noredirect=1
AND IN THE !XUN LANGUAGE:
http://www.youtube.com/watch?v=CQVHs9yPFZs
A SHORT FEATURE FROM PALAEONTOLOGIST NONHLAHLA VILAKAZI'S BLOG ON A VISIT TO WILDEBEEST KUIL:
Wildebeest Kuil : Nonhlanhla Vilakazi talks to David Morris and Petrus Wilson
MORE RESOURCES
An approved/monitored article on Wikipedia: